27 December 2016 | Spaces
In Macarena - one of the most colorful quarters of the town of Seville - there is a house that works as a time machine. Once in it, you will travel to the beginning of the 20th century accompanied by an interesting community of contemporaries.
Corrales de vecinos (Eng. "the neighbors yards") were traditional Sevillian houses built in the19th and early 20th centuries for poor and working class residents. The architectural origins can be traced to the Moroccan riad. A typical feature of these buildings was the existence of a common courtyard surrounded by small rooms where its inhabitants lived. Bathrooms and toilets were shared, and the families would prepare meals and do laundry in a common kitchen and laundry room. The living conditions were very poor, but the communal lifestyle created a friendly, warm atmosphere. Children played with one other as the residents socialized and helped each other in the evenings.
In the second half of the 20th century, these houses, as remnants of the past, began to disappear. Many were demolished or changed beyond recognition into expensive apartments or luxury hotels. Local authorities began providing residents with apartments in new buildings which were popping up in the growing dormitory districts of town. People were happy. "My mother cried when she saw our new apartment which consisted of two rooms, a living room, a bathroom, and a kitchen," I was told by a resident of Seville, who'd lived in a typical corral de vecinos until the mid 60's.
An old photo of one of the Sevillian corrales, beginning of the XXth century. Source: Wikipedia.
Pablo Vera de Cabo has his own corral which he inherited from his family. It is located near the well known Palace of Pumarejo - the informal social and cultural centre of grassroots activists promoting the local barter economy. Pablo has not sold his corral despite the high real estate prices in the downtown, but has instead gradually begun renovating it. Not wanting to alter the design or the structure, he uses traditional methods and materials such as wood, brick, and whitewash. These days, Pablo's house is one of the few corrales left in Seville which has remained in its authentic, original form.
Professors of the School of Architecture of Seville used to bring their students around so they could see a real traditional Sevillian house. Two years ago, the students made a course - they drafted zoning proposals for the building in order to use it for different purposes such as a youth hostel, a recording studio, a cafe, and a theatre auditorium.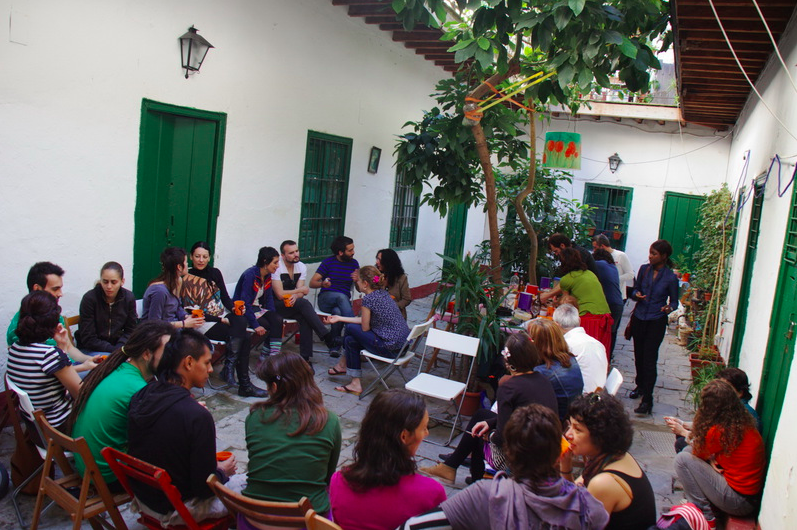 "These projects have been very interesting," says Pablo, "however, they all propose to change the building away from the interior and atmosphere of a traditional house. But for me, it is important to keep it in its original form, while at the same time giving it a new social and cultural element." Together with his friends, who also live in the house, they have created a website for it.
They've also started putting on Sunday events where guests are divided into teams and cook delicious food. In the evenings they hold concerts in the yard ranging from flamenco to Israeli music performed by singers from Tel Aviv, as many of the guests come from different countries. Take for example Maxime, who came to Seville from France to study Spanish guitar, and his South Korean girlfriend who studies flamenco dance. On Mondays the courtyard hosts improvisational theater performances by residents. Pablo is planning to create a special hall for concerts and events for rainy days.
I had an opportunity to spend one month in Pablo's house, allowing me to gain a true sense of how people lived in Seville in the early 20th century. There is no heating, and very few of the amenities we are accustomed to these days. I could hear all the voices and sounds from the other rooms through my walls. However, the unique spirit and soul of the old town is preserved here. In the yard there is a large lemon tree with large mature fruit. In the morning, after the rain, I would relax in the common gallery and breath the clean and eternal air of Seville. Next to my room the Frenchman Maxime was playing guitar. I had a very fresh and pure feeling in my heart here.