11 September 2017 | Spaces
Over the past few years, many grassroots initiatives have emerged in Kiev aimed at interacting with local communities, improving abandoned buildings, districts and social participation. We talked with organizers of these projects.
By Kate Taylor
Squat 17b yard cafe
Initiators: Darya and Miroslav Kryzh
Summer cafe in the courtyard of an old house in the heart of Kiev
Photo by Anna Miu
At the beginning as far as 10 years ago the Squat17B was a commune. The guys just lived there, and then a couple of years ago they made a summer cafe and opened it for people. This is a public space where Kievans and visitors of the city gather. Cozy and simple, where everything is done by hand or collected at vintage markets. There were lectures and concerts, thematic beliefs. On the hot summer day you could just come and chill in a hammock with the refreshing drink. This summer the format has become a little modest, as the neighboring house is being renovated and only the cafe area remains, but the guys hope to return to the previous regime next season.
Darya Kryzh: We opened a cafe in Squat for the money that we had and our friends thanks to the main jobs. The second and third season of relaunch is entirely out of our means. The money that we invested in the cafe we took out the same season. We invited bands that gave free concerts for guests, but we paid artists for their work out of the money that the coffee shop earned.
Squat17B is a platform for inspiration and communication. Our goal is to keep it as it is, to show people how it can be, when you embody your dreams and to help them to realize how it is to make the world your playground.
Samosad
Initiator: Olga Zakrevska
Public square in the Podil district of Kiev.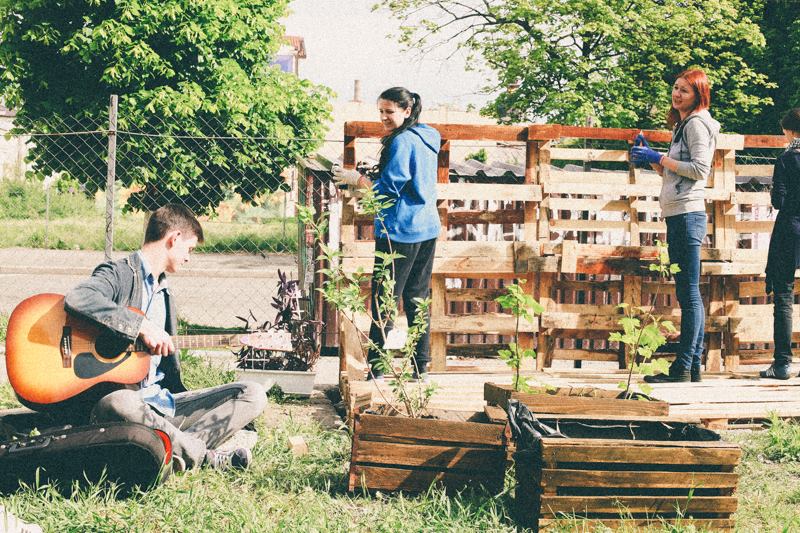 Photo by Olga Zakrevska
Samosad is a grassroots initiative. The activists of the Podil district renovated an old square that nobody cared about for many years and it was in a bad stage. Last summer they united for the renovation, cleared the garbage and started the public campaing so people to pay attention tot he place and help to recover it.
Olga Zakrevska: We, Podolian people and Kievans, first of all need Samosad because in our habitat we feel the lack of green zones and public spaces. Also Samosad is a proof that we Ukrainians can to not only protest, but also create. As a matter of fact Samosad is the project of the facebook community "Podolyanochka". Finance is purely voluntary contributions of people. But the administration helps us with watering, water withdrawal and removal of construction garbage. In June 2017 the organization "Cities for Life" on the sub-grant that they received, helped us to make a number of important works – to install a solar battery with lighting, to make smart beds, to heal a tree and to conduct a neighbor's party with a concert in honor of the start of Samosad 2.0.
Novikov Building.1893
Initiators: Valerie Karpan and Oleh Perkovskyj. Today the project is running by the organization Cultural geographies, which is open for new participants interested in the topic of borders, culture, participatory art and urban studies.
Project that focuses on the protection of architectural monuments in Kyiv through artistic and educational actions.
Photo by Yevgenia Liulko
Many historical buildings in Kyiv have been privatized and fallen into disrepair. Legal loopholes allow the new owners to avoid restoring them to their former glory. The project is currently working with building located at 28/12 Verkhniy Val street, popularly known as Novikov Building. The activists hold various artistic, theatrical and educational events near the house to shed light literally on the problem and pay attention to this building and its fate. In 2015 they installed a light installation, which lit this building in the evening for few hours. At the moment, activists are looking for resources to implement the project.
Valeria Karpan: The next planed artistic action is the performance with the elements of the documentary theater "Alien to themselves", directed by Elizabeth Oliynyk, scenography and costumes — Maria Krutogolova, dramaturgy — Olga Macyupa. The perfomance will take part at the PostPlay Theater. Through this play, activists will try to reveal the personal stories of the towns, which is a key aspect for us in understanding the city and the role of architecture in building its space.
Port creative hub
Initiators: Katya Taylor and Vladimir Kadygrob
Port creative hub is an artistic space for cultural events. It is located in the harbor of Dnipro river, at the Podil district in industrial building which, in Soviet times, served as a stockroom of Ukrainian River Port.
This revitalization project that been created for exhibitions, lectures and other edutainment events for Podolians and Kievans. It consists of exhibition hall, library, book store, artistic studio and bar. It was created for creativity, communication and networking.
Katya Taylor: For me Port is a place where you may come and learn new about contemporary art in easy understandable form. I like to see new people that come, meet each other, communicate, have fun. We also have a studio where one artist work for 6 weeks for free and then we make his exhibition. We encourage young contemporary artists to pursue their work within our space.
The investments have been our own savings from art management business. It wasn't much and we didn't do all at once. We just painted the walls and bought the screen, that's it. We try to make this place better each day. When we earn on space rental we invest in development. So after 2 years we did quite a lot. We also earn on bookstore, cafe and sale of artworks. This helps to keep the team that works on the project and for development.
Pylorama
Initiators: Dana Kosmina, Max Popov, Kira Rozhdestvenska, Yuri Evdokimenko, Igor Sokolov are a self-organisaton сollective of artist and architects.
An urban structure that is directly related to the level of life of local residents is an ideal platform for Pylorama experiments.
Photo by Pylorama
The word Pylorama means in Ukrainian language the woodworking machine designed for sawing logs and beams. The initiative emerged in 2013 in Kyiv and works closely with local communities, involve artists in the re-creation of micro-architectural forms, provide social activities in "damaged" environments: fantom spaces,forgotten territories, abandoned urban structures. All the projects are site specific and take into consideration the needs of commune.
Dana Kosmina: Our main goal is the education through participatory building, involved art open for citizens without any age and gender restrictions. Like a result of those collaborations we create hybrid spaces of people's communication: outdoor cinema, concert scene, permanent exhibition, music spots, flea market spaces, etc .
Basicly we started without any financial support because freedom of anarchitectural forms related in using of simple materials for installations : wood, steel, re-cycling objects.
Now we collaborate with groups from Moldova, Russia, France to provide projects together. In Ukraine we are supported by foreign foundations and we work close with VCRC (visual research cultural center).