23 July 2018 | People
The failed initiative to save postmodern buildings in Potsdam shows that participatory democracy is a struggle in Germany.
Maxim Silva Vega
For several years local activists and urbanists fought against the demolition of several postmodernist buildings in the downtown area of Potsdam, but the city's administration is determined to erase from the map an undesirable period of its history.
Potsdam is not only a place known for the palace of Prussian kings and the 1945 peace conference. This town with a population of 160,000 people, located 24 kilometres from the centre of Berlin, has become a battleground for a conflict between different factions with diverging perspectives on understanding history, heritage and urban development are encountered.
"I've been interested in Potsdam because it has much old, 18th and 19th centuries architecture, as well as many postmodern buildings. It is a conflict between époques, better said between different ways of evaluating them," says Andre Tomczak, urbanist and local activist in Potsdam.
Andre Tomczak was born in the Saxony region of Germany, studied history of arts and urban planning in Berlin. Since 2009, he has been living and working as an independent tour guide in Potsdam. Since 2014, he has been in the forefront of the effort to preserve the Fachhochschule edifice, which formerly housed the university of applied sciences. The local government decided to demolish it and replace it with a replica of a copy of 18th centuryan ancient houses.
This building was completed in 1977 across from the king's palace with an intention for improving the East German education teaching force. In 1992 the University of Applied Studies was founded there. But in 1996 the administration decided to move all universities out of the city centre. Later the authorities decided to demolish Fachhochschule building and recreate in its place a replica of 18th century houses. In July of this year the building was surrounded by a construction fence, and works began to prepare it for demolition.
"The building is not officially protected as heritage, but many regard it as a unique and authentic piece of the local history. The fate of this particular building is emblematic of the broader social issue at hand in Potsdam. The demolition of the Fachhochschule is part of a growing, disturbing initiative to privatize much of Potsdam's center. The local government is busy searching for investors, and Andre Tomczak is worried that the local administration seems committed to optimizing the commercial potential of the town's center for tourism at the expense of the local citizenry.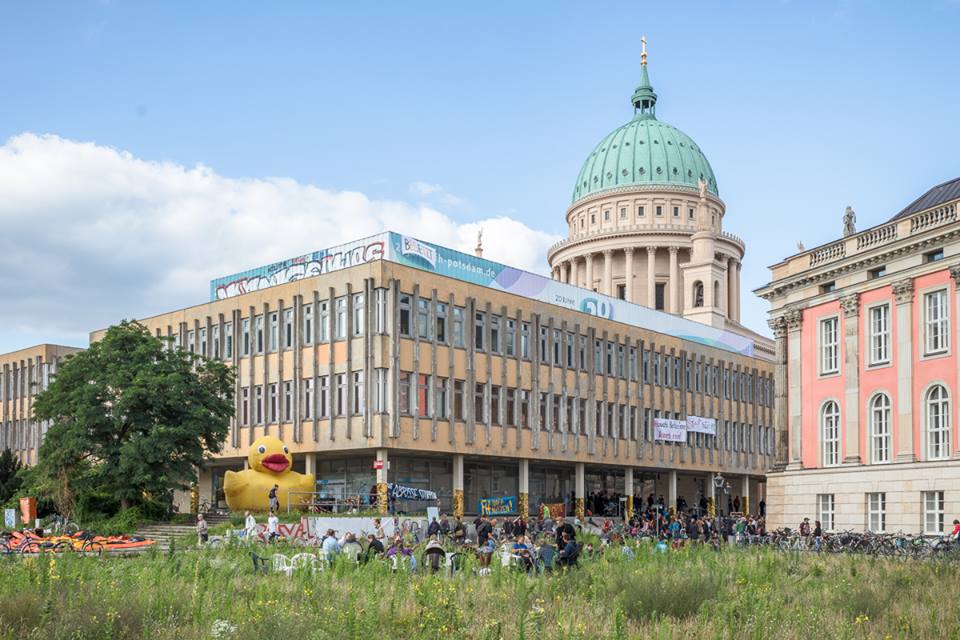 According to Andre, there is also a plan to demolish several other buildings of the '60s epoch in Potsdam's downtown: a hotel, a block of apartments and Rechenzentrum, used now as a residence for local artists. The plan is to construct in its place a replica of Garnisonkirche (military church), the scene of a 1933 ceremonial handshake between President Paul von Hindenburg and Adolf Hitler. It became known as the "Day of Potsdam" and has been symbolic of the military's collusion with the Nazis of that era. Activists like Andre are very concerned because if this plan is carried out, the local government will be in effect manipulating a very controversial and painful part of local Potsdam history.
«We've always thought of the Fachhochschule building as a social hub for the local community and also as a research center for innovation in Potsdam,» says Andre.
Two years ago the city activists created the initiative "Potsdamer Mitte neu denken" (Rethink Potsdam city center). A group of 20 people, many of them professional architects and urbanists, tried to start a discussion about possible new functions for the Fachhochschule building: «We started to archive signatures for a petition for an open referendum. We asked people if they stood against the privatization of public spaces. Are you against the demolition of Fachhochschule? 15 000 people - 10% of the total population of Potsdam - said that they were against both things! This petition generated wide media coverage, but in the end, it failed to achieve a broader referendum. The laws of the Branderburg region do not permit referendums on the city's construction policy."
«While we are quite frustrated, we also feel proud because it is very important that we opened a discussion about this vital issue,» says Andre.
This year Potsdam activists founded a broader alliance "Stadtmitte für Alle" (City center for all) which is comprised of more than 25 local initiatives, with the objective to defend postmodern buildings. Andre said that this alliance is connected to similar projects in Dresden and Bonn and also to the initiative "Offene Mitte Berlin" which is fighting for the green and public space in between TV-tower and Spree river in Berlin. A stronger network is necessary if we want to preserve historical accuracy and authenticity in Europe, according to Andre.
The activists held many unusual and cheerful events near the Fachhochschule building to draw attention to it. Apparently, the authorities did not always welcome this.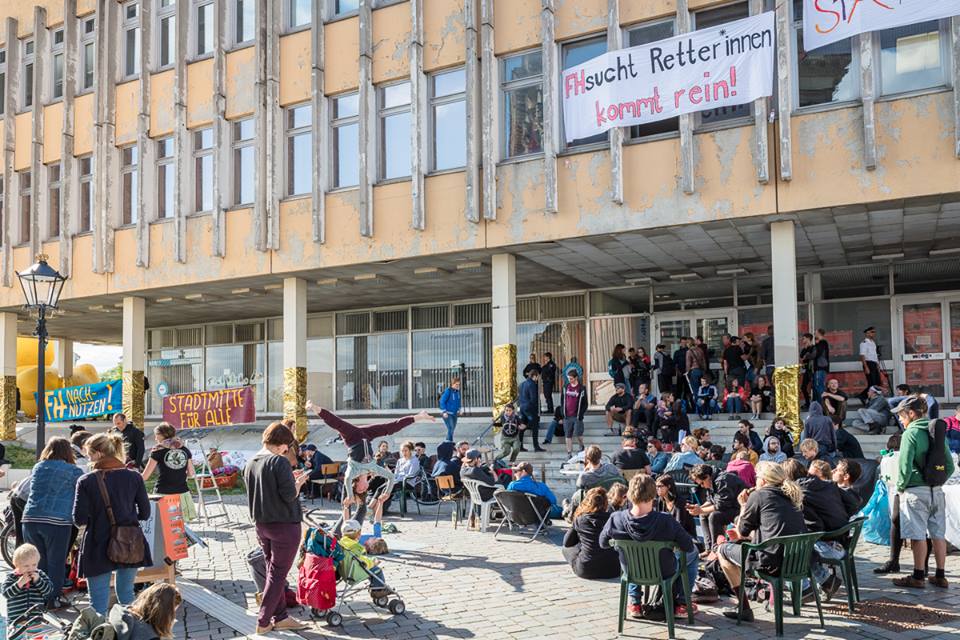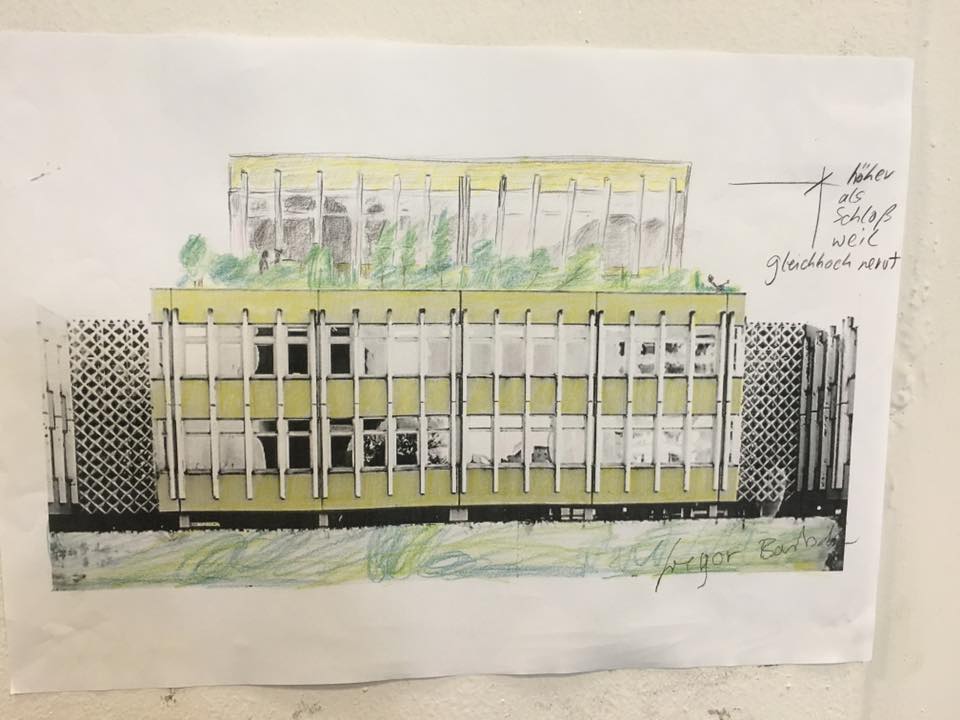 Photos provided by Stadtmitte fur Alle.