4 November 2018 | Spaces
Since 2008, a group of cultural activists has been creating an alternative cultural space Kriterion, probably the only independent arts and community center in Sarajevo.
Maxim Silva Vega
Update! Shortly after the publication of this report, the Criterion Center was closed due to a lack of funding.
Bosnia and Herzegovina and its capital, Sarajevo, are places on the map of Europe where East and West meet and interact. From 1992 to 1995, the country was ravaged by a terrible war. The scars of this conflict can still be seen on the walls of the houses of Sarajevo and felt in people's minds. In this complex context, since 2008, a group of cultural activists has been creating an alternative cultural space here: Kriterion, probably the only independent arts and community center in Sarajevo.
The NGO and art center Kriterion was founded in Sarajevo thanks to the initiative and financial assistance of the Amsterdam art cinema venue Kriterion, which has a long history. The center is located in a rented former cinema. "I was not at Sarajevo Kriterion at the beginning of its existence, however I know that the idea of our center came from the Netherlands. It was a totally new theme in Bosnia. After a number of years, the Dutch curators let the art center go free, and it became financially independent. Now we have to make decisions and find resources for its existence on our own," says Mirza Bradaric of Kriterion.
Mirza Bradaric studies philosophy at a local university and makes music. He started working at Kriterion three years ago as an event manager, PR and sound technician: "Our team consists of only six people and each of us deals with several wizards at once. Kriterion's structure is horizontal; we don't have a boss. We meet and make decisions together. Our idea is to build a liberal alternative place for everyone. Kriterion is a place where you can come to encounter contemporary art, music and cinema. You can read here, you can sit without even buying a tea or beer. You can draw, you can take instruments and play… In Sarajevo, there are only 2-3 such alternative places…"
Kriterion has its own stage at the Sarajevo film festival and holds other important art events. "Once we had a band play here called "A Place to Bury Strangers" - it was amazing. 600 hundred people! It was great. Now we are more focused on movies, however. We host a lot of different events, for various minority groups. Our aim is to build scenes in different fields of the arts. Minority is in the groups. It is divided. In music, there are not many festivals here… (The Sarajevo International Jazz Festival will be held this year for the last time - due to financial difficulties and a lack of support, its organizers are forced to close this project - PeopleLoveSpaces). A good example is the Summer School of Rock in Mostar. They are educating and connecting people so they can form bands. Right now, there isn't much of an alternative scene in Bosnia, to be honest. Maybe five really professional bands. And many of them are moving towards more commercial music. People need money. So now I am trying to do something with young musicians to encourage them."
"The biggest problem in this city is the mentality of the people," Mirza is convinced. In the Netherlands, alternative culture has more status. Here it is totally different. We are a minority here, and it is very hard to push that idea from Amsterdam. The majority of Sarajevo is very conservative, and the war we had also influenced the people a lot … But still, in 2011, when Kriterion appeared, there were many more people interested in alternative culture in Bosnia than there are now. There was some kind of alternative movement. And then what happened … Sarajevo happened. Today we have much more mainstream, much more so-called "turbo folk" culture, a "turbo folk" state of mind. It is getting harder and harder to promote the alternative culture to the city, to the audience. Young people don't know what to do with their lives! So Kriterion is a place for them, they can learn here. But most of them don't like us. People say 'It is an LGBT place, it should be closed.'"
Kriterion rents the former cinema hall from its owner, and the economics of Kriterion depend mainly on revenue from the bar: "Sometimes we have a little surplus, sometimes zero, sometimes minus. But overall, we break even. I am not from Sarajevo, and I rent a flat here, I also study… I would like to stay here, to live here! I would like more people to share the ideas of Kriterion. To learn more about the world. I was born in the 90s, after the war, and I don't want to think about the war, I don't give a f*ck about the war! It happened, it is in the past. It is okay to be religious, but not to impose your views on other people. In Kriterion, all people are equal. That's the main point, I think. And that's why we are a minority in Sarajevo at the moment."
"For now, the plans of Kriterion is to stay in the same building and to continue good prectices in a field of art. All our programs are focused on the young people. We are interested in colaborations with foreign projects, local communities and institutions, interested in applying for grants, but we have not got much practice in the previous years, so, we have to develop team for this kind of collaborations", says the program director of Kriterion, Sabrina Begovic Coric.
Kriterion (Address: Obala Kulina bana 2, Sarajevo, Bosnia and Herzegovina, tel. +387 33 203-113)
Mirza Bradaric and guests from the Amsterdam center Kriterion.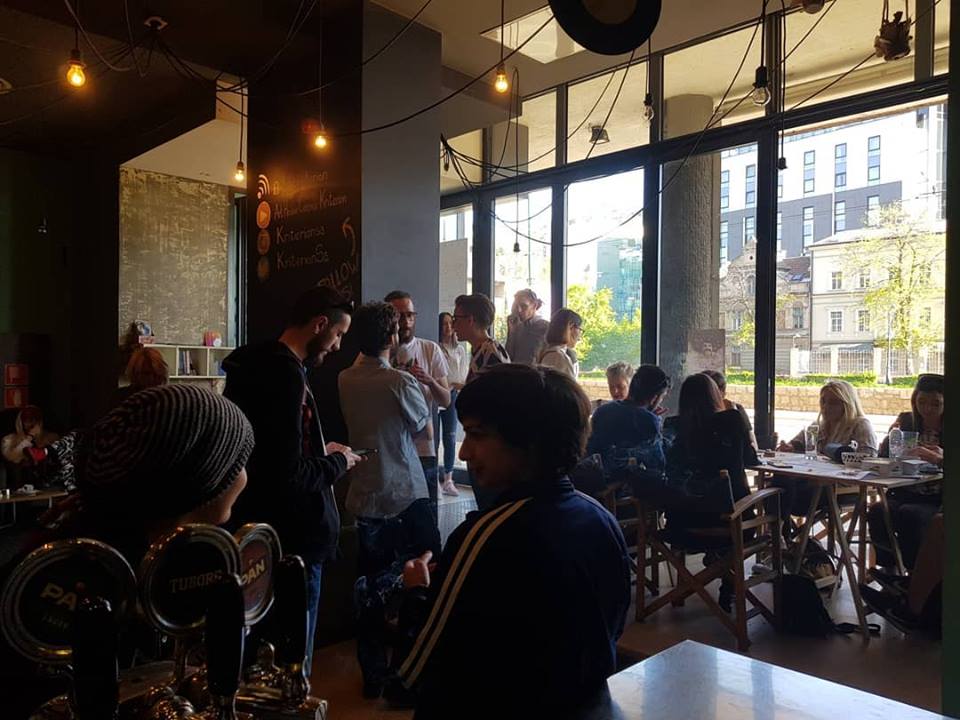 Photos provided by Kriterion Sarajevo. Thanks to Dźwięki Świata (Ula Andruszko) and Hilary Whiteley for help creating this article.