28 June 2021 | Spaces
Maria Dąbrowska-Majewska and her daughter Weronika Majewska are closely connected with Praga, the district of Warsaw. Here, they set up a local community center in an old market.
By Maxim Silva Vega
Praga, a quarter of the Polish capital (not to be confused with Prague, the capital of the Czech Republic), is a typical example of urban gentrification. Although in the past the area hasn't been considered very prestigious due to the social composition of its inhabitants, in the last two decades, it spiked a lot of interest and became a hype.
While many quarters of the Polish capital were destroyed during World War II, some of the pre-war tenement houses in this part of the city have survived. Today, they are an opportunity for old but relatively cheap housing, making it quite fashionable for young people to move here. Multiple trendy art clusters with cozy cafes were built in the old factories, and over time Praga became a "brand".
At the current time, the construction of new residential buildings in this area is actively underway and the prices for apartments here are rising... Meanwhile, many residents of Warsaw still prefer to settle in more prestigious and safe areas of the city. "There were many hopes associated with the revitalisation of Praga, but this quarter is still unsafe and not clean," says Agnieszka, a Warsaw resident, and she is not alone in her opinion. There are residents of Warsaw, however, who are true patriots of Praga. The unique atmosphere of this place is what attracts them here. With its quiet vacant lots, courtyards, and the old tenement houses with collapsed plaster, it gives the visitors a deep sense of appreciation for the past.
Maria Dąbrowska-Majewska and her daughter Weronika Majewska are from Praga, and their lives are closely connected with this quarter. Here, ten years ago they founded a non-profit Foundation «Zmiana» ("A Change"). Zmiana's main focus is to promote reading and saving second-hand books. "Many people and institutions send us books from all over Poland, and we distribute them in Praga and other places of Poland," explains Weronika Majewska.
The foundation has set up several libraries in small villages in different parts of the country. "One woman even made a library in collaboration with us in her private house in a village," says Weronika. «Zmiana» also organises special events and performances around the topic of second-hand books. For example, a performance with a labyrinth of books or a huge "tower" also made of books: "We built such a tower, and then people came and took books out of it."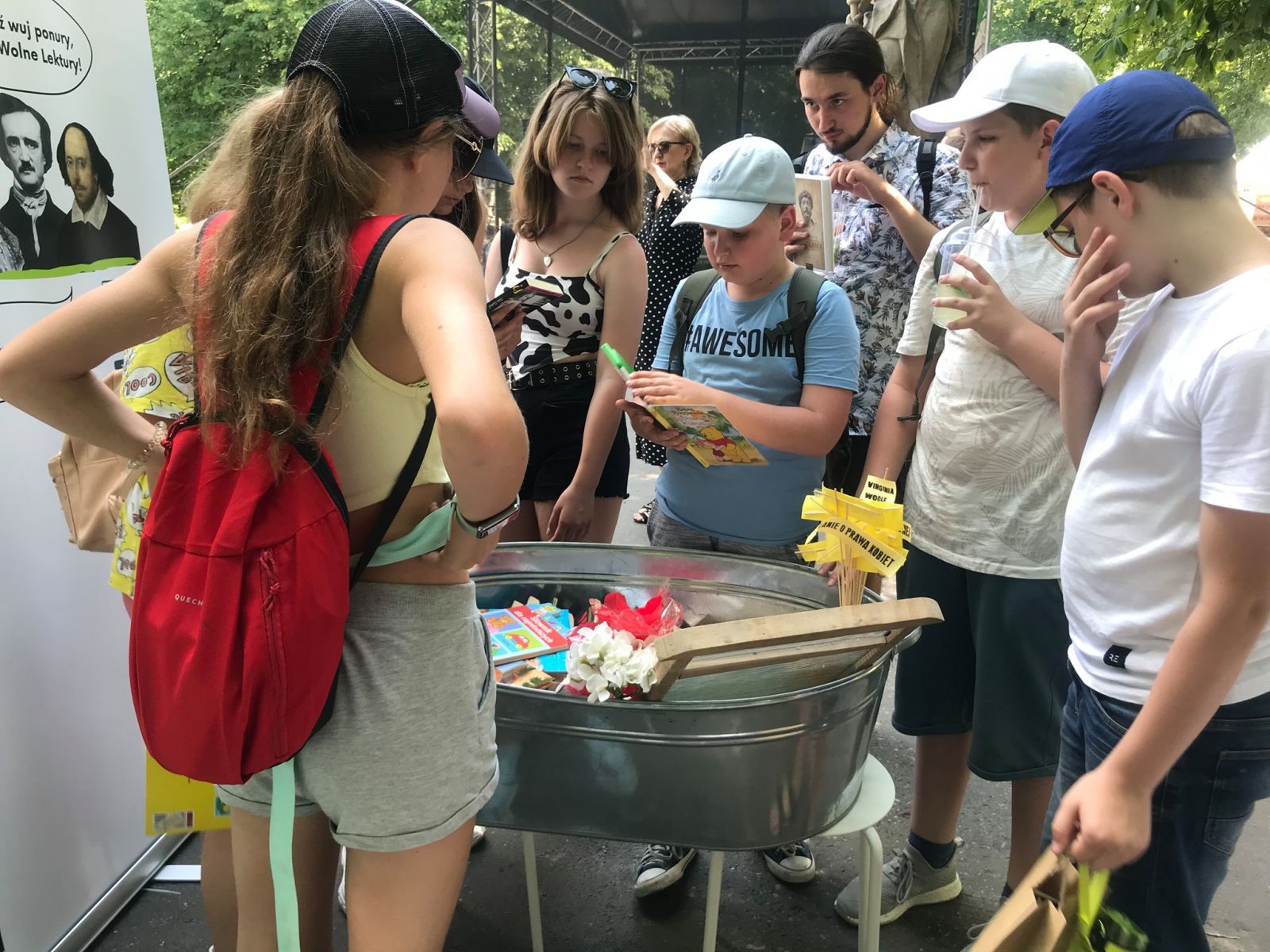 Weronika Majewska admits that she no longer lives in Praga - a few years ago she moved to another quarter of the city. "Today's Praga is no longer the quarter of my childhood, it has become not so cheap to live here, every year the district changes...", she says. Nonetheless, Wiktoria comes here every day to work on the projects of the foundation. In the last two years, life has brought Maria and Weronika to Bazar Rozyckiego - one of the oldest and most traditional markets in Warsaw, which still retains the atmosphere of Eastern Europe of the 90s.
One part of the market is privately owned. Here, the owners have set up a hipster pop-up market with designer items, clothes, cafes, and parties. Another half still belongs to the city of Warsaw, and that is where the «Zmiana» Foundation made an improvised residence for the local community. "Anyone can come to us and offer their idea and use this space - to make a concert or a workshop - we are open to any ideas," explains Weronika.
In response to my remark that in recent years my life has consisted of constant travels across Europe in search of my place in the world, Weronika replies: "Our place and our project are just for such people - for strangers who are looking for alternative ways of living in the city and the world. We are the same strangers."
"Life is moving forward, the world and the city are changing - it is impossible to stop a moment," adds Weronika. "And I don't know how long this market and our place here will last... We live here and now."
Weronika Majewska
The Saturday flea market has become a traditional day at Bazar Rozyckiego.