3 July 2017 | Spaces
STAGE is an experimental public space built with help of international team of architects in Dnipro, Ukraine, which is conceived as an investigation of the cultural needs of the residents of the town.
STAGE is designed for movie screenings, art performances, lectures, workshops and exhibitions. It has been built by the Dnipro based cultural NGO «Kultura Medialna» with the budget of 2900 USD collected at the crowdfunding platform indiegogo.
The inspiration to build STAGE came from the Polish urbanist and researcher Kuba Snopek. Last year, Kuba visited the contemporary art festival Construction in Dnipro made by «Kultura Medialna». Kuba gave a lecture on crowdsourcing architecture in Poland. Then the architect offered to build in Dnipro something similar and really necessary for the local community, and to use crowdsourcing and crowdfunding as the main tools. Several other architects from Poland, Denmark, Germany and Russia supported this idea as volunteers.
"We organized a lot of interviews with potential users of this place. They were people of different ages, gender, different interests, religious views, and so on. We asked them what functional and visual spaces are needed for our town", says Kate Rusetska from «Kultura Medialna».
Based on these surveys, the team of architects created an architectural design for the new venue. Within two months necessary funds were collected at and, in early summer of 2017, the volunteers started to build the venue.
STAGE is a temporary wooden structure which has been built in an abandoned part of Shevchenko Park, on the site of an old amphitheatre. In 100 days its founders will deconstruct it and will start working on the permanent construction – STAGE 2.0.
«We are building STAGE to find out what kind of space the city really needs. We will give it to Dnipro for 100 days. We will observe: How do local people react to this space? What kind of events do people organize for themselves?», says Kate Rusetska.
Beyond the stage there is a place for movie screenings and lectures, spaces for workshops and exhibitions, lots of comfortable seating. Polish landscape designer Katarzyna Dorda helped to plant a special mixture of fragrant herbs and flowers.
STAGE also has one secret feature. The whole structure is designed to work as a huge sound amplifier – a gigantic acoustic tube, similar to those in old gramophones. Everyone can attach a small source of sound (like a smartphone or a small speaker), and the tube makes it much louder.
«We are building a temporary pavilion-type building for the reason that by the moment we could not build in the park something fundamental. And because the project itself is experimental and prototype. In this case, the platform acts as a temporary construction, you can say the art object.The city authotities support our initiative at the level of permits. And this is a very serious progress for Dnipro», explains Kate Rusetska.
In June of 2017 on the still unfinished venue its team started to hold the first concerts and parties. In early july STAGE will become one of the sites of the next edition of Construction festival. More updated info HERE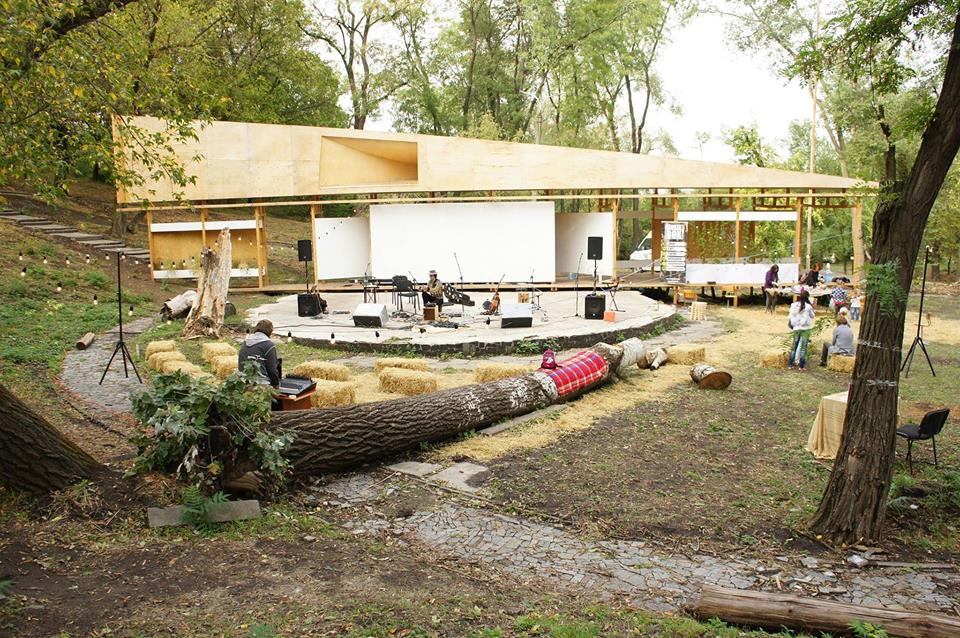 Images taken from https://www.facebook.com/stagednipro/