23 October 2018 | Spaces
Experimental University at a pond in Berlin's Templehof is searching for new approaches to urbanism and art.
Maxim Silva Vega
During the spring and summer of this year, an unusual university worked in Berlin, which German architects built on several platforms on a hidden pond. The main advantage of this alternative institution was that everyone could learn here new ways of perceiving the relationship between people and the city.
The project Floating University was made by the architects Benjamin Foerster-Baldenius, Florian Stirnemann and other members of Raumlabor Berlin - architectural studio and educational and research organization devoted to urbanism, art and sustainable development. «Our spacial proposals are small scale and deeply rooted in the local condition», says its Manifesto. This organization uses the holistic approach to the relationship between man and space, and this understanding was fully embodied in the activities of Floating University - a «visionary inner city offshore laboratory for collective, experimental learning through transdisciplinary networks to challenge routines and habits of urban practices».
«Benjamin Foerster-Baldenius occasionally discovered a hidden rainwater pool next the Tempelhof airfield, which holds the rain water which flows from the field», tells Dorothee Halbrock, program curator of Floating University. «Benjamin was pretty amazed by its strange «oasis» style and atmosphere and developed a concept of Floating University - an alternative campus. Raumlabor applied to Bauhaus Foundation grant (next year it will be the 100th anniversary of Bauhaus school), and also to some other public and private institutions, and got grants for Floating University. Entirely, our budget was 330 thousand euros, and we had a sponsor, construction company which provided the scaffolding from which we belt the platforms».
The architects projected and, together with volunteers, belt a drilling platform for a summer alternative university. From April to September of 2018 students, scientists, local inhabitants, architects, artists, musicians, dancers from all over the world visited the University and investigated practices of urban living and formulated visions and ideas for a better future city. Students and their teachers from more than twenty universities collaborated on building the campus: worked with spaces, participated in workshops, worked in a discursive kitchen and in a fast food greenhouse. "Students helped to build the water filtrations system and solar oven. We walked with them through the city, and they could experience it from philosophic point of view, also had a thoughtful walk around Nazi culture spaces in this area, also a sound walk in headphones, which were amplifying the sounds around. We used many different approaches», explains Dorothee Halbrock.
«Also, during three «Open Weeks» in May, July and September we invited the local and international public to explore the campus, as well as to participate in open workshops, lectures, seminars, concerts and performances», she says. Various workshops were devoted to non-standard study of the world that surrounds a person: in a certain sense, this organization and methods of work in it can be taken as successors of the famous Bauhaus school. One of the workshops was dedicated to the legacy of Bauhaus.
«Floating University has been a temporary project which ended this September. But now, as the interest is super high, we try to make it more long term. it has been approved that we stay here for two more yers. That's good, and we still need money. We need to find a new funds and we are going to create an association for it, which will be non-profit. We will take down all the platform and will leave only two buildings: the Green House (it is already in the third use, it was a prototype for student's dorm by Japanese architects Bow-Wow) and the entrance tower, to have more condensed form. We will condense the content as well and for the next year we will focus on local collaborations around this area. But for 2020 we will open again for international collaborations and public».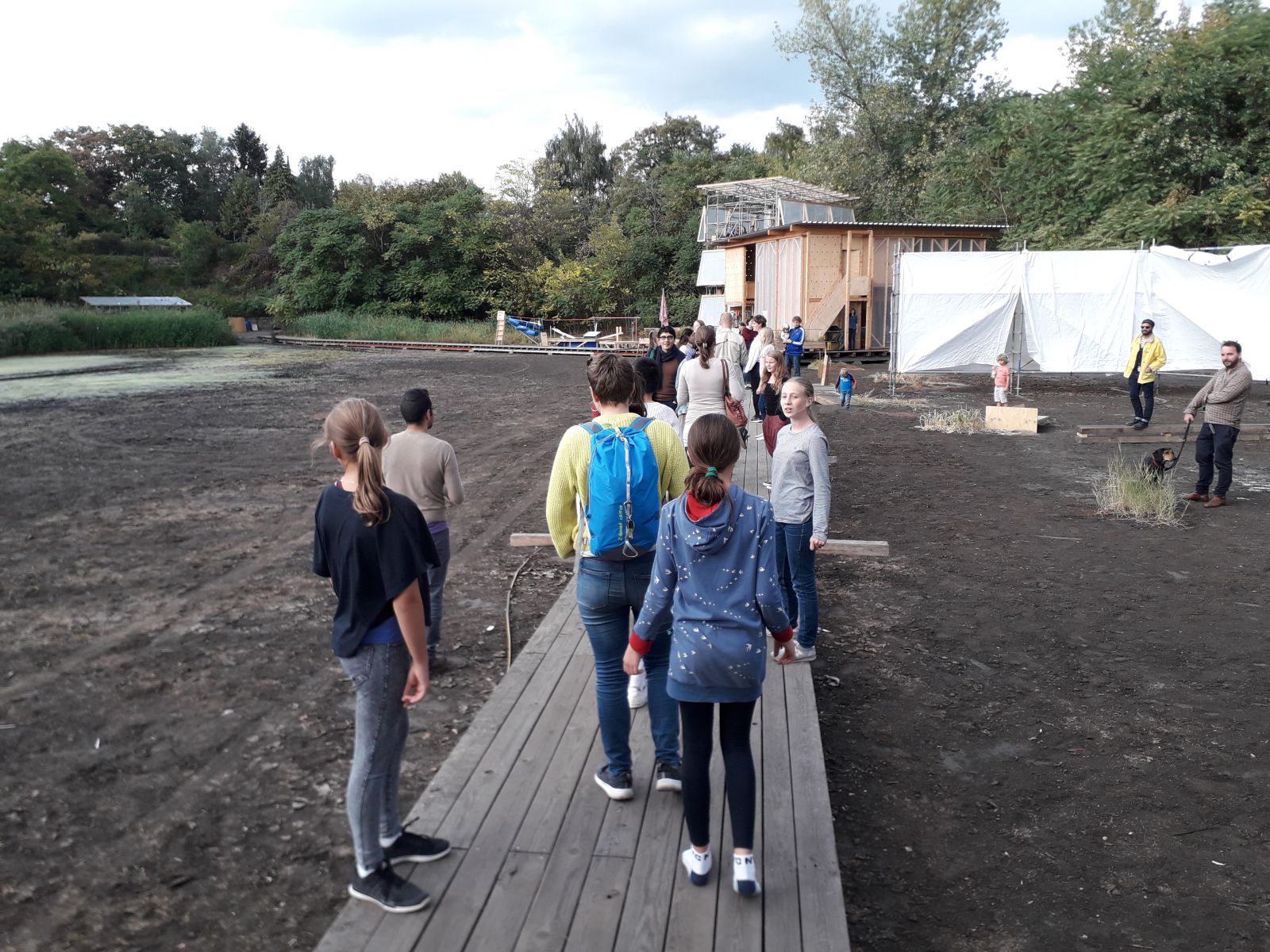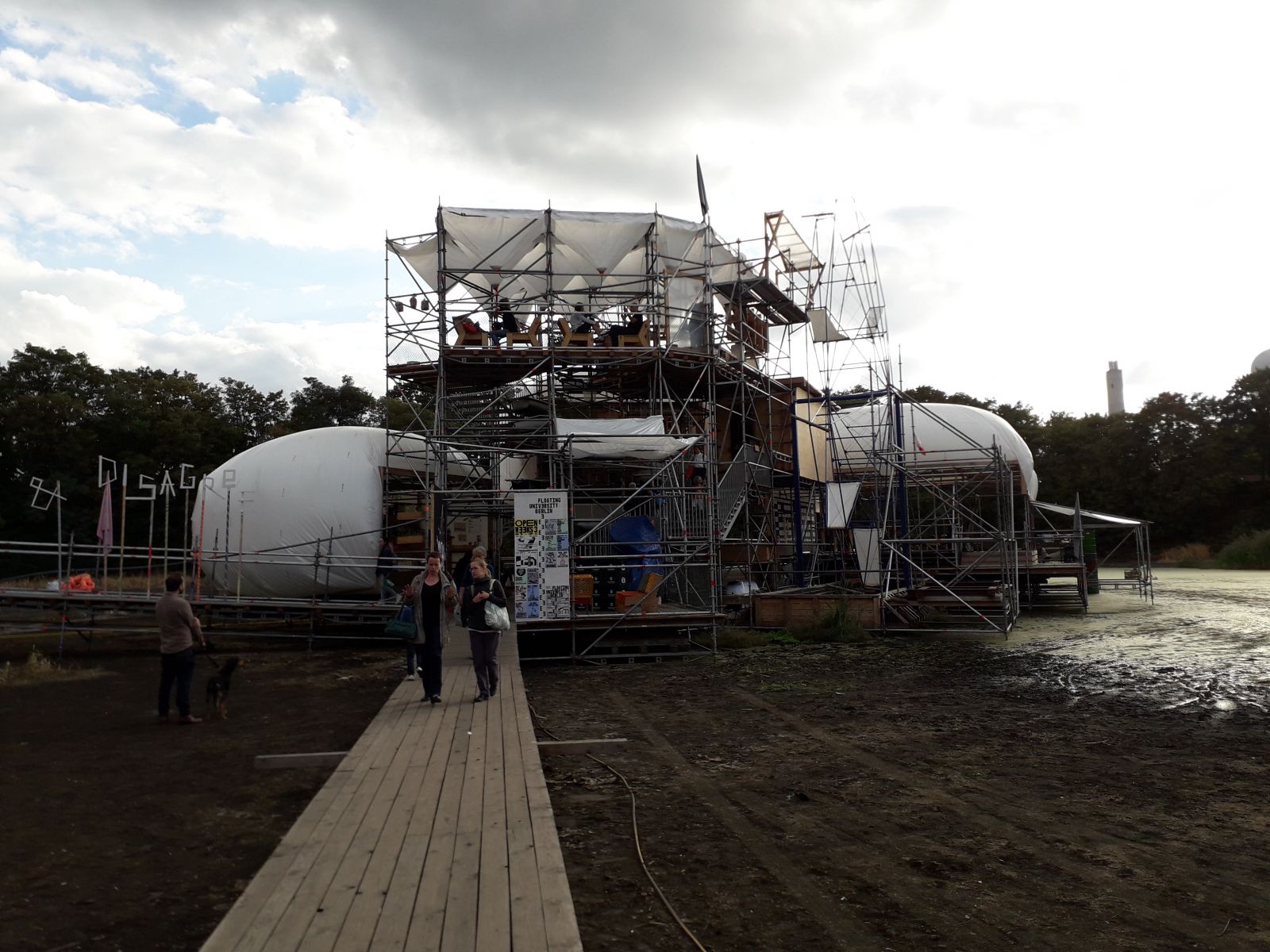 Thanks to Hilary Whiteley for help creating this article.